Just like managing any business, a money-making blog requires a lot of hard work from thinking of topics to write about, to actual composition of the post, to driving site traffic, and up to keeping tab of opportunities from advertisers.

Enter SocialSpark. This online community-slash-marketplace creation from IZEA makes all of the above mentioned tasks possible at one fell swoop. It is like a one-stop shop for advertisers and bloggers to connect, build buzz, and do business efficiently.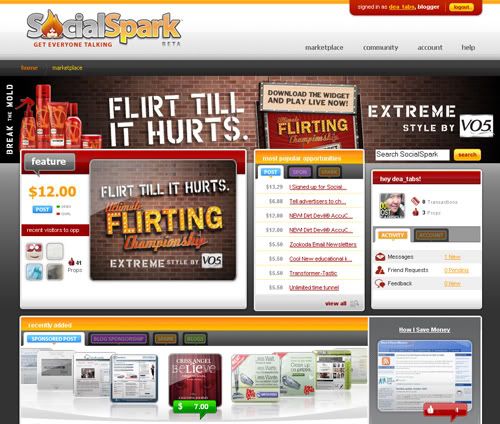 What I like most about SocialSpark is that I can easily browse for opportunities that are classified according to their availability and to my blog qualification. And even when there is no opportunity available for me, I can still make use of the "Sparks" which are free opportunities that can give me ideas on what topics to blog about.

SocialSpark also gives bloggers the opportunity to meet and interact. I signed up with SocialSpark a month ago, and I was able to make new online friends and receive some "props." A "prop" is like a positive vote that you can give to a blog which you find favorable. And this is made possible as we can view each others' blogger profiles. You can view my profile here.

As of today, I have received a total of three props. BIG DEAL! LOL! Among the many lessons I have learned from blogging that is worth remembering is that, in the blogosphere, the "give and take" principle applies as it does in real life. So when I log into my SocialSpark account later, I'd be giving away props. It's props giveaway day today!

On a serious note, the best thing about SocialSpark is their code of ethics which can be summed up as follows:


-100% Audit-able In-Post Disclosure
-100% Transparency
-100% Real Opinions
-100% Search Engine Friendly
If you're serious about making bucks out of your blog, go for
SocialSpark
. Let me know when you sign up so I can give you a prop!
THIS IS A SPONSORED POST